Segítek
Az alábbi területeken tudok segíteni neked
Software Development
This is my main profile. I create custom-built software based on individual concepts, being the simplest registry or a complex system requiring innovative solutions or research. Most of the time – but not exclusively – I create two- or three-tier applications with web-based user interface.
Website Design
Designing websites via individual solutions or by using frameworks (my favorite is WordPress) or extending frameworks with plugins requiring minor or major development tasks. This, however, is usually mixed with software development since the majority of software works on the web these days.
Metatrader Development
Creating systems based on individual concepts on the MQL4 platform of Metatrader 4, being a simple indicator or a complex expert advisor (trading robot). If you can precisely define the logic of your system, I am able to implement it. This is also true to the platform of ForexTester 2, if you would like to test a more manual strategy.
Lotus Notes Development
Lotus platform enables the rapid development of custom idea. Simple systems can be realized completely within the Notes client, more complex ones can be done via web-based user interface backed by the Lotus Domino server. I also have experience to connect and integrate this platform with various other systems.
Rólam
Miért dolgozz velem?
Akkor válassz engem, ha azt szeretnéd, hogy jól működjön!
Dr. Kovács Barna vagyok, szabadúszó szoftverfejlesztő. Már 8 éves korom óta érdekelt, hogy hogyan működnek a számítógépek, mitől csinálja azt, amit látok. Nagyjából azóta programozok - igaz, mindig közgazdásznak tanultam, mert úgy gondoltam, hogy minek tanuljak olyasmit, amit már tudok.
Gazdasági főiskolára jártam, amikor diplomamunka gyanánt vállaltam egy kórházi osztály rendszerének kifejlesztését. Ez volt az első megbízásom. Nagy lelkesedéssel konzultáltam, megterveztem - viszont a megvalósításba beletört a bicskám. Fel kellett adnom, és ezt a mai napig szégyenlem. Ez óriási pofon volt. Akkor elhatároztam, hogy ilyen többé nem fordulhat elő. Amit vállaltam, mindig befejezem, úgy, hogy a megrendelő is elégedett legyen.
Egyetemista korom óta készítek komolyabb egyedi szoftvereket, szoftver-rendszereket. Az egyetem (Közgáz) és annak elvégzése utáni oktatói munka sok lehetőséget adott magyar és Európai Uniós kutatási projektekbe bekapcsolódni, ahol nemzetközi fejlesztőcsapatok tagjaként készítettem szoftvereket.
Végül a doktori fokozat megszerzése és négy gyermek születése után rájöttem, hogy a rendkívül változatos és szerteágazó munkák közül az egyetemen is a szoftverek készítését élveztem a legjobban. Ezért lettem végül önálló, hogy végre azzal foglalkozzak, amit a legjobban szeretek.
Korábbi munkáim
Customer: Catholic Church of Hungary
Task: extending the countrywide used software system managing all the catechists, divinity groups, schools, educational venues with facultative groups, individual user logins, catechists' progress logs, printable reports and logs. (2015)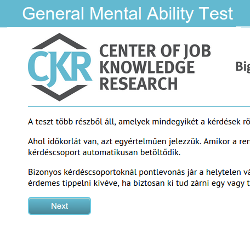 Customer: Center of Job Knowledge Research, Amsterdam
Task: developing a test based on a given conception that is able to measure the general mental abilities of the user (this is somewhat similar to IQ testing) while being able to integrate with multiple web-based systems and frameworks. (2013-2014)
Previous
Next